改變、轉變與應變-科學工藝博物館館長的718天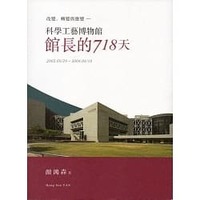 改變、轉變與應變-科學工藝博物館館長的718天
顏鴻森
國立成功大學機械工程學系
國立科學工藝博物館
2017
ISBN 978-986-05-3526-6
中文介紹
國立成功大學工學院機械工程學系顏鴻森講座教授,於2002年05月29日至2004年05月18日(718天)期間,借調至位於高雄市的國立科學工藝博物館擔任第三任館長。
本書乃過去數十年來國內社教館團所的首長中,唯一將其心路歷程撰寫出來的專書,分為基礎、變革、行政、後記四篇。第一篇:基礎篇,介紹工博館的創館背景,就任與卸職緣由,並說明施政理念、變革策略、及執行措施。第二篇:變革篇,以將工博館的屬性,從科學中心逐步變革為綜合性科技博物館的治館核心理念,介紹在有限與受限的公務預算下,如何爭取外部資源、扭轉困境為生機、及轉型再造的變革。第三篇:行政篇,針對工作計畫、績效獎金、在職進修與兼職、人事抱怨、考績訴案、民眾投書、及黑函事件等議題,說明如何面對問題、瞭解問題、解決問題的原則與措施。第四篇:後記篇道出擔任館長的心得結語、鎖具捐贈緣由與哲理、以及未預期行政職涯之惑與謎。
此書的出版,可為現任與未來社教館所的首長和主管,治理館務的參考。
Change, Transform, and React: 718 Days as the Director-General of National Science and Technology Museum
Hong-Sen Yan
Abstract
Dr. Hong-Sen Yan is a NCKU Chair Professor of the Department of Mechanical Engineering, College of Engineering, National Cheng Kung University (NCKU). He was seconded from NCKU to take up the position of the third Director-General of the National Science and Technology Museum (NSTM) in Kaohsiung from May 29, 2002 through May 18, 2004, 718 days in total.
Among the directors and chiefs and of domestic social education institutions and museums over the past decades, Dr. Yan is the first and only one to write a book about his journey as the NSTM Director-General. This book falls into four parts, namely, Fundamentals, Innovation, Administration, and Afterword. "Part I:Fundamentals" introduces NSTM's background and the Director-General's governance philosophy, stories to become and step-down the position as the Director-General, transformation strategy, and implementation measures. " Part II:Innovation" is about the process to transform NSTM from a science center characteristics to a comprehensive science and technology museum and, with limited and restricted official budgets, how to fight for external resources, turn the plight into life, transform and recreate. Issues such as work plans, performance bonus, on-the-job training and part-time job, personnel complaints, appeals to performance appraisal, visitor's feedback, and blackmails are discussed in " Part III:Administration", together with the principles and measures to face, understand, and solve these issues. In " Part IV:Afterword", Dr. Yan shares his experience and conclusion, the reason and philosophy to donate his lock collection, and the puzzle and misery of his unexpected administration career.
This book is expected to be helpful for present and future directors and chiefs of social education institutions and museums in Taiwan.